American University
Event Types Welcomed
Corporate Social Events

Expo/Competitions

Professional Meeting / Training / Conference / Retreats

Youth Retreat/Camps
About
American University, a national campus arboretum, is conveniently located in an urban residential neighborhood in Washington, D.C., less than five miles from the White House. Conference guests can take the Metro or walk within a few miles to some of DC's most historic sites, along with experiencing art, history, culture, shopping, entertainment, and great food!
Whether you are hosting a business meeting, conference or social event, American University has the experience and expertise to ensure your Washington, D.C. event will be one to remember!
View the details below to learn more about the attributes that make American University the perfect Washington, D.C. event venue for your needs!
Meeting & Event Spaces
Max Capacity: 400 guests
Largest Classroom Style: 160
Largest Theatre Style: 380
Largest Auditorium Seating: 388
Largest Arena Seating: 5,000
Largest Seated Reception: 300
Largest Standing Reception: 500
Maximum Casual Dining Seating: 200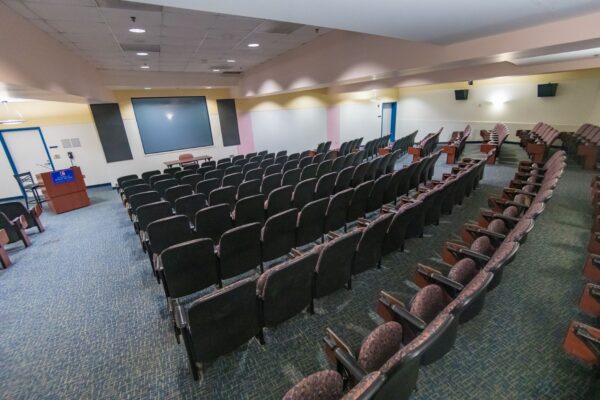 Lecture Halls
Between May and August, we offer several lecture halls on campus that can accommodate between 65-388 people. Lecture Halls are located in the School of Public Affairs and the Kogod School of Business. Additionally, there are a variety of classrooms available for breakout meeting space.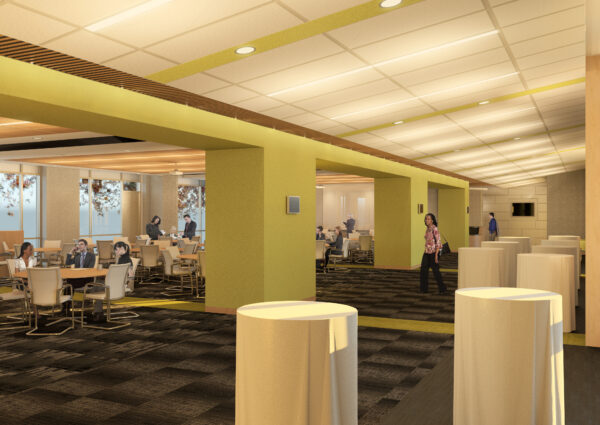 East Campus Commons
Tour This Event Space: https://tours.vividmediany.com/3d-model/east-campus-commons/fullscreen/ Located in the new Constitution Hall, East Campus Commons offers meeting space to accommodate up to 300 people. Constitution Hall provides one main meeting room that has a capacity of 300 theater style, which can also be broken down into three separate meeting space rooms. The space directly outside of the main meeting room is great for catering to set up or for a reception!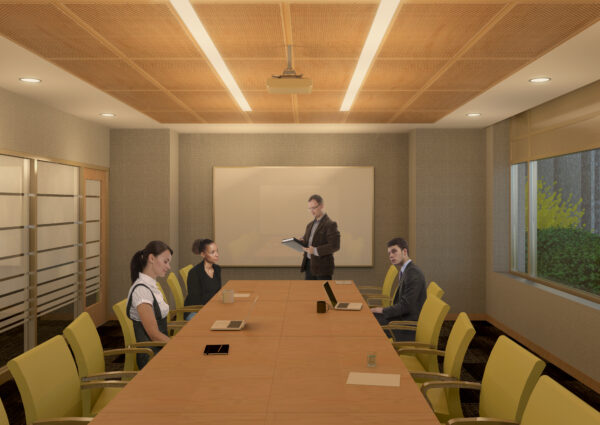 Duber Hall
Tour This Event Space: https://tours.vividmediany.com/3d-model/east-campus-confrence-setup/full Duber Hall is located on our beautiful new East Campus. Duber Hall offers two meeting rooms that accommodate 18-20 people and come with a fixed board room table. A third meeting room is available has a capacity of 10-20 people and offers flexible furniture that can hold up to 20 people theater.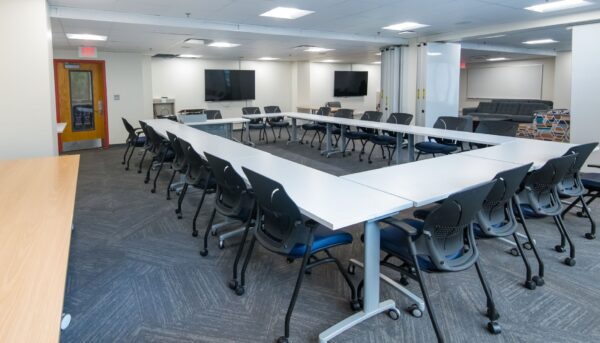 Residential Meeting Space
We have a variety of meeting spaces available in our residence halls. Residence hall meeting spaces accommodate between 10-200 people and typically feature installed PA system, projector, and screen. Our residential meeting spaces offer a variety of setups, from classroom style to reception style.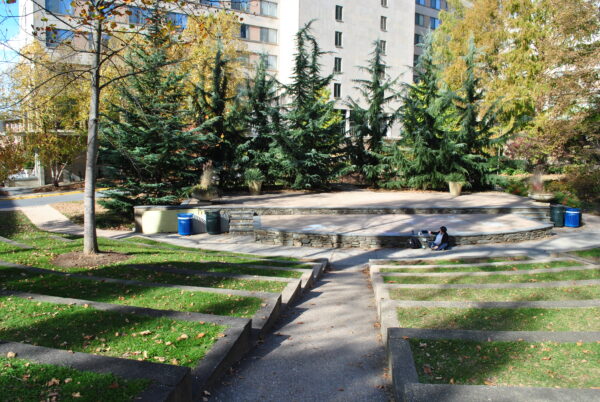 Additional Meeting Space
While American University offers a variety of lecture halls and classrooms, there are also several other ideal spaces for your group. The Kay Spiritual Chapel, which has a capacity of 250 people, is a beautiful larger meeting space. Bender Arena, our main athletic facility, is also available for rental for conference groups. If you are looking for outdoor meeting space, we also have our Amphitheater and the Friedheim Quad. Lastly, we offer many smaller conference rooms throughout the campus that can be utilized for smaller meetings and breakout space.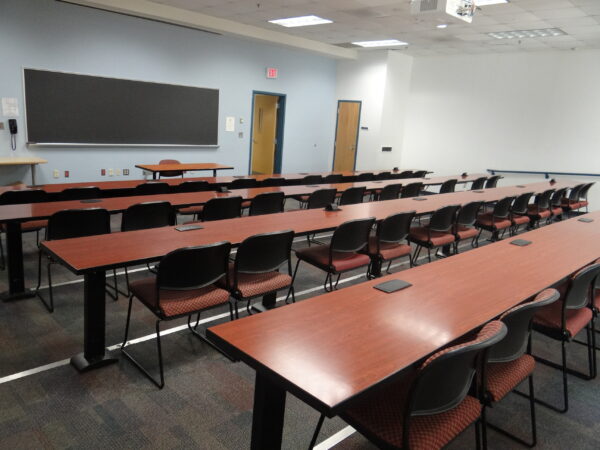 Classroom Space
We offer a variety of classrooms that are available on campus, throughout all of our individual colleges. These are the perfect locations for breakout meeting spaces or the ideal location to host a session for your conference while on American University's campus.
Duber Hall
Tour This Event Space: https://tours.vividmediany.com/3d-model/duber-hall-boardrooms/fullscreen/
Food & Beverage Options
Terrace Dining Room
AU has one dining hall on main campus, called Terrace Dining Room (TDR), in the Mary Graydon Center. TDR is a newly renovated, peanut free, all-you-care-to-eat facility with one flat rate for each meal.

TDR offers a wide variety of hot and cold entrées, including homestyle and international dishes. Dietary Restrictions? AU Dining will work with you directly to make sure you are familiar with the foods you are able to eat. AU has consistently been named one of the most vegetarian-friendly campuses in the country.
On Campus Retail
We have numerous retail options on campus ranging from coffee shops to Subway. Each location is ready to meet your needs, accepting cash, credit card, check, or EagleBucks.

Starbucks (coffee shop)

Davenport Lounge (coffee shop)

Eagles Nest (convenience store)

Subway (sandwiches and salads)

UPS Store (postal services)

Catering options
Chartwells Catering
Campus spaces are exclusively catered by Chartwells, our on-campus food service provider. Custom menus, including beer/wine bars and bar service are available through Chartwells, directly, and can accommodate any nutritional needs including gluten-free, vegan, kosher, and halal diets. You can view basic menu options on Chartwells' website at https://americandining.catertrax.com/.
Accommodations
Total Number of Overnight Guests: 4000
Number of Overnight Rooms: 2500
Wi-Fi in Guest Rooms: Yes
Wi-Fi Guest Room Cost : Free
Overnight Room Attributes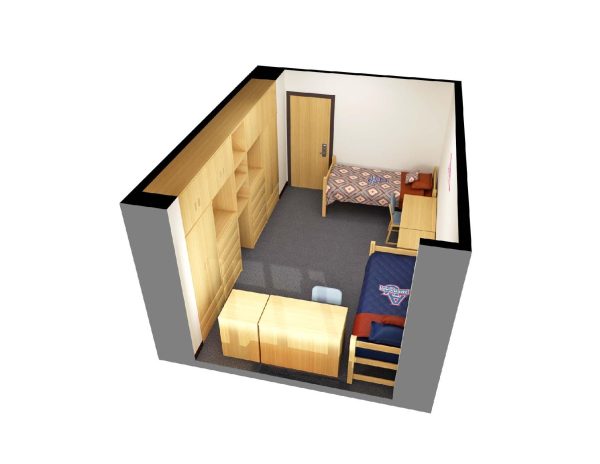 Traditional Style
Traditional style double occupancy bedroom with communal bathroom.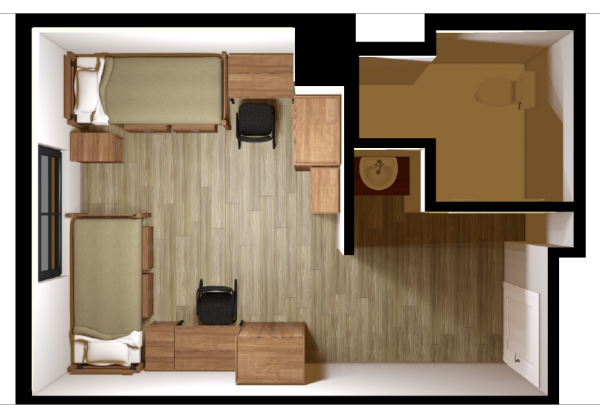 Suite Style
Suite style options feature either a private or semi-private bathroom.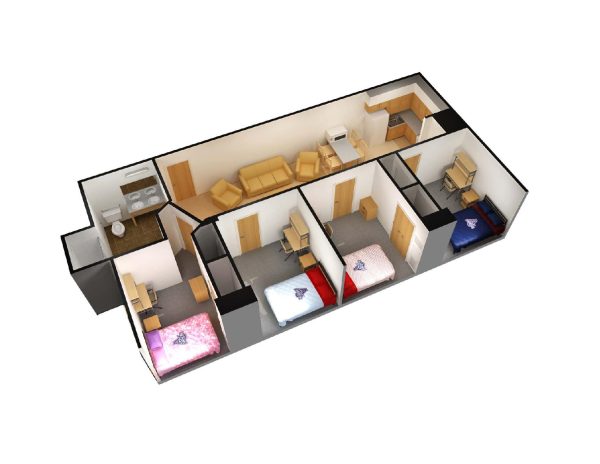 Apartment Style
We offer 2-4 bedroom apartments for our summer intern program only. In the apartments each guest has a private bedroom with a full size bed. The apartments come with full kitchens, bathrooms, and a living area.
Featured Amenities
Accessible Facilities

Air Conditioning

Bus

Eco-Friendly

Fitness Center

In-House Catering

Laundry

Linens

Near Public Transit

Outdoor Space

Paid Parking

Running Trails

Sports Facilities

Taxi

Theater Seating

WiFi
Venue Location + Transportation
Address
University Conference & Guest Services,
4400 Massachusetts Ave NW,
Washington, District of Columbia 20016
Transportation
Bus

Lyft

Metro

Taxi

Train

Uber
Nearby Airport
Reagan National (8 miles)| Dulles (22 miles)| BWI (39 miles) - 30 minutes
Nearby International Airport
Reagan National Airport - 45 minutes
Parking
Onsite Parking: Yes
Car Charging Stations: No
Nearby Cities
Alexandria, VA (7 miles) | Baltimore, MD (40 miles) | Annapolis, MD (40 miles)
Things to Know
Catering
Must Use In-house Catering: Yes

External Catering Allowed: Yes

Can Bring in Own Food: no

Cultural Catering Available: Yes

Food and Beverage Onsite: Yes

Do you offer tables, chairs, and linens?: Yes
Technology
Free WiFi
Onsite AV technicians
Most meeting spaces are "smart classrooms"
In Residence Hall Room Cable
Guest Wi-Fi: Free

Onsite Tech Support: Yes

Wi-Fi in meeting space: Yes

Equipment Available On-Site:

LCD Projectors
Projector Screen
Microphones
Sound System
Venue Policies
Alcohol Consumption: Yes

Smoking Permitted: no

Cannabis Industry-Friendly: No

Cannabis Consumption: No

Eco Friendly: Yes

ADA Accessible: Yes

Family Friendly: Yes

Pet Friendly: No
Testimonals
American University hosted the first ever It's On Us Regional Advisor Summit. We had the pleasure of working with Mackenzie Sammis throughout the planning process of the Summit. From our very first encounter, Mackenzie was eager to go above and beyond to make our Summit everything that we dreamed of. We felt safe knowing that our small but mighty group was all able to be accommodated on the same floor of a dorm. The dorms were clean, spacious, bright, and comfortable. AU Conference & Guest Services staff on site was attentive and supportive throughout the weekend, allowing us to use a cart to transport equipment in between buildings, helping students who were locked out of the room, and allowing us to make use of an auditorium instead of a classroom for the screening of a documentary. All in all, we loved working with American University throughout this process and would certainly consider using them again for our future needs.
- It's On Us
We have been staying at American University for our school trip for the past ten years. Working with AU is always such a breeze! The staff is organized and diligent. Everyone is so kind and helpful to our children and they make us feel right at home! We have had numerous occasions where we have needed unexpected assistance and we can always count on the folks at AU to help us out such as coordinating an unexpected movie night or rearranging rooming assignments. Planning a middle school trip to Washington D.C. from out of state is a huge endeavor and it is such a relief to be able to count on the staff from AU conference and guest services to be on top of everything. Thanks so much for always providing a home away from home for our middle school students!
- The School at Columbia
Our organization greatly appreciated the conference operations coordinator's willingness to provide several options and detailed information, giving her time to meet with us frequently and answer our many questions, help us through a variety of issues with other AU departments, and understand our budget constraints. The service she provided made the whole complicated process much easier. She always kept a positive attitude and was willing to find solutions, plus during the conference, her actual presence and hands-on attitude at all times ensured that everything went smoothly.
- Guild of Natural Science Illustrators
We have worked with American University's Conference & Guest Services team for three years in a row for one of our non-profit's biggest annual events. Each year, we enjoy working with them and even the undergrad team members are impressively kind and helpful. Thank you, American University Conference & Guest Services!
- Network for Victim Recovery of DC
We have used the housing and dining facilities at American University for the Shenandoah University Youth Theology Institute for the last two years. Mackenzie Sammis has been our primary contact at AU. She is attentive, accessible, and thorough. It is a joy to work with her. She has been able to meet our shifting program needs in a way that exceeds our expectation each year. As the director of a traveling program, the support offered by American University to adapt our meal plan or housing needs have been invaluable to the success of our program. The food service offered at TDR provided for a variety of dietary needs and preferences; our students, staff, and faculty were full and happy after each meal. We have been pleased with both the housing and food service offered through AU, and would highly recommend other groups like ours to use American University as the home for their summer program while in Washington D.C.
- Shenandoah University
Services
Gym Access
Complimentary gym access for all overnight guests.
Linens
Full set of linens for each bed.
Shuttle Service
Complimentary shuttle service to and from the Tenleytown-AU Metro for all guests.
Front Desk
24-hour front desk coverage in each campus neighborhood.
Wifi
Access to the campus wifi network is included in all room rentals or overnight room reservations.
We Connect Unique People With Unique Spaces
At Unique Venues we believe that at the core of being unique is inherent inclusivity. We celebrate the notion that people gather for different reasons and that audiences are filled with humans of every race, gender expression, spiritual belief, sexual orientation, age, political leaning, and more.
All planners who inform us of a booking at one of our venues will be eligible for our monthly drawing for a $25 Amazon Gift Card. Be sure to let us know that you booked one of our outstanding unique sites! Just shoot us an email: sara@uniquevenues.com.